An open letter to Ho Shin Do Manchester Karateka from Rod & Malwina Martin Shihan
To all the Ho Shin Do Manchester Karateka,
We are deeply grateful to receive our awards on this, your 10th Anniversary.
Having followed your progress from humble beginnings in 2004, after having the privilege of teaching and training with Steve sensei for years before that, we see the growth and development, the coming of age and the integrity of what you have all created.
With Ten years of gradings, tournaments and seminars, our only regret is that we haven't been able to be in the dojo with you at every class, however, we believe that you couldn't be in better hands than that of Steve Sijuwade Sensei, who's dedication to all of you, along with his own training, is unprecedented.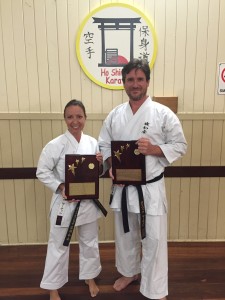 Spending some time with Steve sensei in Japan 2014 reminded me of our friendship and how much we value his care and attention. Watching him grow as a karateka, a teacher and a leader has been our pleasure.
It has been delightful to see the photos and video posts of you all, working hard on your karate, so it is your joy and commitment to your training that inspires and helps us. Domo Arigato Gozaimasu..
Roderick Martin and Malwina Martin
January, 2015